Japan posts surprise trade surplus as exports recover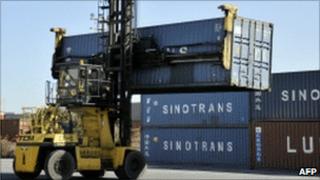 Japan has posted a trade surplus for the first time in three months, as exports start to recover after the 11 March earthquake and tsunami disrupted production.
The country had an unexpected trade surplus of 70.7bn yen ($898m; £556m) in June, the finance ministry said.
Exports were still down from a year earlier but rose by 5.4% from May.
The data underscores a recovery in the hard-hit auto sector as production improves and shipments rebound.
"These numbers are comforting as they show supply chains and production are clearly in recovery," said Yasuo Yamamoto from Mizuho Research Institute in Tokyo.
Revving up
Exports decreased 1.6% in June from a year earlier, however that is the slowest fall in four months, the report said.
Most economists were expecting a drop of 4.1%, after exports recorded a 10.3% year-on-year fall in May.
"The data shows exports are recovering more quickly than expected as production returns to pre-quake levels, mainly at car makers," said Takeshi Minami, from Norinchukin Research Institute.
Many manufacturers faced supply chain shortages and power cuts in the aftermath of the record-breaking earthquake.
Rising Yen
As exports start to recover, Japan's economy still faces challenges from the strength of the yen and the uncertainty in the global economy.
"Exports could continue to recover in July and August, but after that things could be difficult if the yen continues to strengthen and overseas economies slow," said Mr Yamamoto.
The yen rose to a four month high on 14 July.
A stronger yen makes Japanese good more expensive overseas.
The other issue weighing on sentiment is the continuing crises in the euro zone and the US.
"There is considerable uncertainty about the outlook...because of worries about the US and European economies, as well as about a slowdown in China," said Mr Minami.