Hynix profits slump as weak demand hits chip prices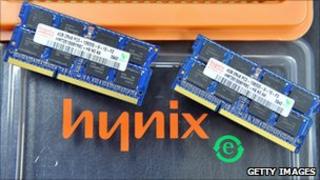 Hynix Semiconductor has reported a second quarter slump in profits due to falling prices for memory chips.
Hynix said its net profit for the three months to June was 473bn Korean won ($448m; £277m) - a 34% decline from the same period last year.
The prices of memory chips have been hit by the sluggish global economy, which has seen weakening demand for personal computers.
Hynix is the world's second-largest memory chip maker.
The company said prices for its DRAM chips fell by 1%, while those of NAND Flashes dipped 19% from the previous three months.
The chip-maker said that the three month period began with growing demand at a time when the Japanese earthquake was prompting supply concerns.
"However, this trend reversed in the latter part of the quarter due to weaker than expected demand from the increasing global economic uncertainties," it added.
"On the supply side, unlike market concerns, supply disruptions due to the earthquake did not materialize."