Insider trader Danielle Chiesi jailed for 30 months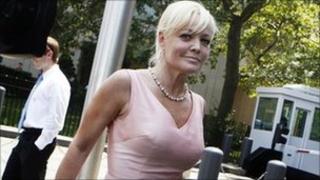 Danielle Chiesi, a former Bear Stearns hedge fund trader said to have used her charms to gain insider tips from company executives, has been jailed.
Chiesi, 45, was handed a two-and-a-half year sentence after pleading guilty in New York for her part in the Galleon hedge fund insider trading case.
In a recorded telephone conversation she described how she played an insider source "like a finely tuned piano".
Raj Rajaratnam, who headed Galleon, will be sentenced on 27 September.
Chiesi's sentence was shorter than the 37-46 months that prosecutors had sought.
She was also given two years of supervised release, 250 hours of community service and a $25,000 fine.
Her punishment may have been mitigated after Chiesi's lawyers claimed she was bullied into obtaining illegal tips by her married boss at a previous firm, with whom she had a 20-year affair.
Chiesi, a former beauty queen, was accused by prosecutors of being a "consummate Wall Street insider", and using her charms to elicit information from men, including a former IBM executive, Robert Moffat.
She was heard laughing after her sentencing, as she shared a joke with an FBI agent who had testified against Rajaratnam.
Unlike nearly all of his co-defendants, Rajaratnam had pleaded not guilty, but was nonetheless convicted on 14 charges of conspiracy and securities fraud, and faces a lengthy jail term.