Kingfisher sales fall on tough trading at B&Q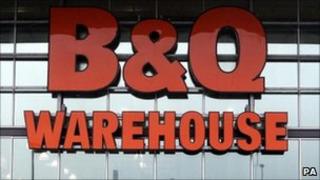 Sales at Kingfisher's 330-store DIY chain B&Q have slumped, with the company warning of "challenging" trading conditions.
Like-for-like sales at B&Q in the 11 weeks to 16 July fell 6.7%.
Overall, Kingfisher's UK sales dropped by 5.5% with a good performance by trade supplier Screwfix offsetting some of the downturn at B&Q.
Kingfisher said B&Q was hurt by rival Focus DIY going into administration and cutting prices to clear stocks.
Ian Cheshire, Kingfisher's chief executive, said: "These are testing times for retailers."
Sales at Kingfisher's two French chains, Castorama and Brico Depot were much stronger, adding 3.7% on a same-store basis during the 11 weeks.
Across Kingfisher's outlets in Poland, China, Spain and Russia, like-for-like sales added 1.4%.
Group-wide same-store sales were up 0.5%.
Despite the difficult trading conditions in the UK and Republic of Ireland, Mr Cheshire added that it provided "an opportunity for strong businesses such as ours to strengthen their position".
"We expect to emerge from this year in excellent shape and well prepared to start delivering the next phase of our growth plans," he said.