Hong Kong inflation at highest rate in almost three years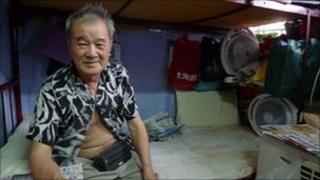 Hong Kong's inflation rate has risen to its highest level in almost three years, fuelled by soaring housing costs and food prices.
The city's consumer price index rose 5.6% in June from a year ago, the highest rate since July 2008, and above 5.2% in May.
Hong Kong's economy is thriving as the former British territory has reaped the rewards of China's rise.
But many poorer residents are struggling to cope with rising costs.
Hong Kong imports 90% of its food, mainly from China where the price of food has spiked in recent months.
The price of pork in China, the staple meat, jumped 57% in June.
In Hong Kong, property prices are up 12% so far this year and private rents are at their highest in 13 years.
The introduction of a minimum wage in May has also pushed up consumer prices as employers pass on the extra cost to customers.
Hong Kong's currency peg to the dollar means that it cannot adjust interest rates to rein in inflation.
The government expects the economy to expand by 6% this year and inflation to average 5.4%, its highest level since 1997.
,