White Cube to open in Hong Kong as art market booms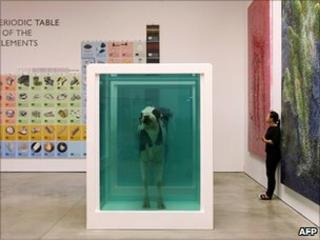 White Cube, the British art gallery best known for championing the work of Damien Hirst, will open its first overseas branch in Hong Kong.
The gallery will open early next year, said Tim Marlow, White Cube's director of exhibitions.
Mr Marlow said that the gallery chose Hong Kong due to its role as a hub for the region and its proximity to China.
In 2010, China became the second largest art market in the world, after overtaking the UK.
For China's freshly minted millionaires and billionaires looking to spend their wealth, art is a natural choice.
But they have tended to favour the art and antiques of their own country.
Mr Marlow doesn't think the confrontational nature of much Western contemporary art will make it a hard sell in Asia.
He says White Cube has already made a significant number of sales to collectors from the region, including pieces by Damien Hirst and brothers Jake and Dinos Chapman.
"Our mission is not to convert the region to Western art per se, but to forge a dialogue between the two," he said.
Mr Marlow said the gallery initially planned to show work by its existing, mainly British, contemporary artists but did not rule out representing artists from the region.
"We see Hong Kong as a place to base ourselves so we can become immersed in the culture," he says.
Auction sales in Hong Kong totalled $1.46bn in 2010, up 122% from 2009, according to Art consulting firm ArtTactic.
And Christie's said on Friday that sales in Hong Kong in the first half of the year were 60% higher than a year ago.
Art HK, the city's four-year old annual art fair, is now the biggest in the region and looks set to be even bigger next year following a takeover by the organisers of the world's most influential modern art fair, Art Basel.