Morgan Stanley's results beat market expectations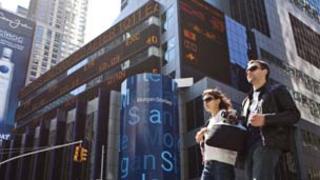 Morgan Stanley has seen its second quarter revenues rise by 17%, beating market expectations.
The US bank's net revenues totalled $9.3bn (£5.7bn) in the three months to 30 June, up from $8bn a year earlier.
Morgan made a net loss of $558m, or 38 cents per share, during the quarter. However, the loss was caused by a one-off $1.7bn charge, without which Morgan would have made a profit of 64 cents.
The charge was caused by an investor converting its Morgan shares.
The change by the investor in question - Japanese bank Mitsubishi UFJ Financial - had the effect of diluting Morgan's common shares.
Morgan is just the latest US banking group to report its second quarter results, and analysts said its figures were among the strongest so far.
"We're seeing some progress here on the turnaround in Morgan Stanley's trading business, which has been a long time in the making," said Shannon Stemm, an analyst at Edward Jones.