Property sales still sluggish, HMRC says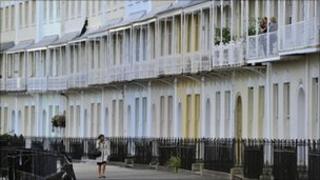 Home sales rose slightly in June, but were still lower than a year ago, figures from HM Revenue & Customs (HMRC) show.
At 73,000, the number of homes sold last month was 5,000 up from May, but was 12,000 lower than in June 2010.
The figures confirm the continued subdued state of the property market.
Since 2007 sales have been weighed down by the continued rationing of mortgages and the reluctance of sellers to drop their asking prices.
Earlier this week the Rightmove property website said the average asking price for homes currently on sale was £236,597.
That was far above the actual average selling price, which, depending on the survey used, is either £203,528 (DCLG), £168,205 (Nationwide) or £163,049 (Halifax).
So far this year, 382,000 homes have been sold in the UK.
This is slightly lower than the 407,000 sales recorded in the first half of 2010.
Also, it is less than half the level achieved in the first half of 2007, just before the onset of the credit crunch.
There seems little chance of sales picking up this year.
This week the Council of Mortgage Lenders reported that total mortgage lending so far this year had been lower than in the first half of last year.
And the number mortgages approved for home buyers, but not yet lent - a key indicator of short term trends - is still flat, according to recent figures from the Bank of England.