Blackstone income rockets to $703m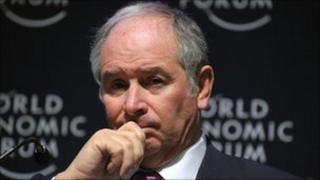 The private equity and property firm Blackstone said its second quarter net income had rocketed more than three times to $703m (£434m).
The buoyant results, thanks to a rise in value of companies it has stakes in and a jump in fee income, compares with reported income of $203m a year ago.
Blackstone said it had $31bn of spare capital to invest - what it called "dry powder" - across its funds.
The company also agreed to buy German outdoor clothing brand Jack Wolfskin.
It is said to be paying around 700m euros ($994m, £617m) for the company, which sells jackets, rucksacks, tents and shoes for mountaineers and trekkers.
Blackstone, whose group chairman and founder is Stephen Schwarzman, has investments in a vast range of businesses, including, at one time, the collapsed care home chain Southern Cross.
It was owned by Blackstone from 2004 to 2007 and was criticised for its actions while it owned the company.
Blackstone denied it was responsible for Southern Cross's financial woes.
The company bought Southern Cross for £162m in 2004.
It floated Southern Cross in 2006 and when it sold its remaining stake in 2007, Southern Cross was valued at about £770m.