Vodafone sees slower sales growth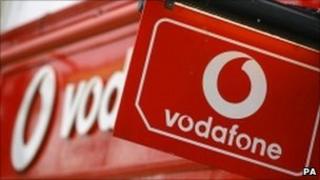 Vodafone has seen a small rise in quarterly service revenues as weak trading in southern Europe was offset by strong growth in India and Turkey.
Revenues in the quarter to June grew 1.5% on the year, but was down on the 2.5% growth in the previous quarter.
Conditions in southern Europe had been "challenging" due to price reductions, with revenues falling 1.5% in Italy and nearly 9.9% in Spain.
But Turkey saw growth of 32.1% and India 16.8%.
Regulatory changes in Europe also affected Vodafone's trading, with some national regulators having cut mobile termination rates - the rates an operator receiving a call charges the network on which the call was made for completing the call.
"We have made a good start to the year, reporting robust results despite challenging macro-economic conditions across southern European economies and the impact of cuts to mobile termination rates," chief executive Vittorio Colao said.
The company also confirmed its outlook for the full year, which had previously been stated as an adjusted operating profit of between £11bn and £11.8bn.