Ecclestone 'admits payment' at heart of Formula 1 trial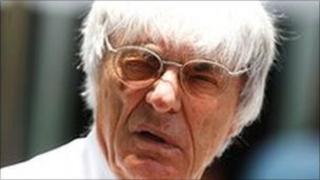 Formula 1 supremo Bernie Ecclestone has admitted to a newspaper that he paid $44m (£27m) to a former banker in 2006.
Gerhard Gribkowsky, who faces trial in Germany, stands accused of corruptly accepting the money. But Mr Ecclestone denies it was a bribe.
Mr Ecclestone told the Daily Telegraph that he paid the money because Mr Gribkowsky "threatened" him with trouble with the Inland Revenue.
The payment came during the sale of the sport in 2006.
In return for the payment to Mr Gribkowsky, who was in charge of the sale of German bank BayernLB's stake in F1, prosecutors allege Mr Ecclestone received $41.4m in commissions from the bank, as well as a large payment to a family trust.
In the Telegraph interview, Mr Ecclestone avoided accusing Mr Gribkowsky of blackmail and denied the money was a bribe.
"I never bribed anybody or paid any money to anybody in connection with the company," he told the newspaper.
F1 sale
The allegations revolve around the sale of BayernLB's stake in Formula 1 to private equity group CVC Capital Partners, which still owns the commercial rights to the sport.
A court will now decide whether Mr Gribkowsky will stand trial on the charges.
Mr Gribkowsky's lawyer was contacted but declined to comment.
Mr Ecclestone confirmed to BBC Sport the comments attributed to him by the newspaper.
CVC said it had no knowledge of any alleged payments to Mr Gribkowsky.
The firm bought majority control of F1 from Bernie Ecclestone's family trusts and a group of investment banks.
Mr Ecclestone remains F1's chief executive and retains a large shareholding in the sport.