McDonald's profits rise 15% on higher global sales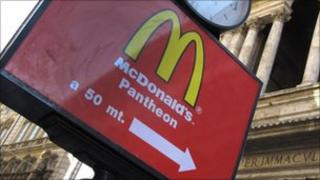 Fast food giant McDonald's has seen its quarterly profits soar 15% on higher sales across all its global regions.
Its net profit for the three months to 30 June totalled $1.41bn (£866m), compared with $1.23bn a year earlier.
Revenue growth was led by Europe, where McDonald's same-store sales increased by 5.9%. They rose by 4.5% in US, and by 5.2% for the rest of the world.
Group-wide revenues totalled $6.91bn, up 16% from $5.95bn a year ago.
McDonald's chief executive Jim Skinner said the latest results showed the company's resilience in the face of "the continuing challenges of our economic environment".
The company said the cost of most of its ingredients in the US and Europe was continuing to rise between 4% and 4.5% on an annual basis as food price inflation remains high.