Toyota output and sales dip in first half of the year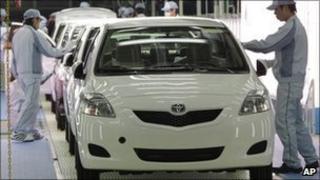 Toyota's output and sales in Japan dipped in the first half of the year in wake of the earthquake and tsunami.
Production dropped 38%, while sales slumped 41% in the six months to June, from a year ago, the company said.
Toyota was hit by a shortage of parts due to the damage caused to Japan's supply chain by the natural disasters.
Exports in the first half of the year also declined for the first time in two years as shipments to key markets such as North America decreased.
While its factories have been running at reduced output, the carmaker said that its domestic and overseas production levels will return to full production by the end of the year.
Toyota also added that it plans to produce an additional 350,000 vehicles from October through to March 2012 to make up for lost production.