Higher bills hitting savings growth, says BBA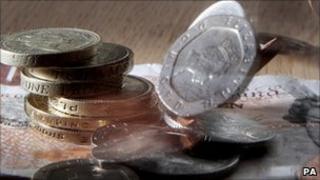 Some people are saving less because they are having to pay higher household bills, figures have suggested.
Personal deposits and savings in the High Street banks rose by £6.1bn in the first six months of 2011, the British Bankers' Association (BBA) said.
That compares with £15.9bn in the same period of the previous year, suggesting that higher bills could be having an impact, the group said.
Mortgage lending and credit card borrowing remained subdued, it added.
Slow growth
Various aspects of household bills have been rising during 2011, such as drivers' fuel costs and the cost of heating the home.
This has caused some money that might have been set aside for putting into a savings account to be spent on these essentials instead, the BBA said.
"Personal deposits are growing only slowly as some people may be using savings to pay higher household bills," said David Dooks, the BBA's statistics director.
Three of the big six energy suppliers have announced price rises to come into effect in the coming weeks, which could add to this trend.
However, interest rates are keeping returns for savers at relative low levels at present.
Mortgage market 'weak'
The number of home loans approved by High Street banks for house purchases in June stood at 31,747. This was up sightly on the previous month but 6% lower than in June 2010.
"Banks continue to lend for house purchase but the weak mortgage market is self-evident, although some growth is coming from the buy-to-let sector to meet demand for rental properties," Mr Dooks said.
There was a slight pick-up in remortgaging in June compared with the previous month, the figures show.
This level was similar to the average of recent months.