Dissidents on dirty protest challenge Maghaberry move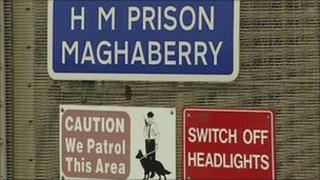 Two prisoners involved in a "dirty protest" at Maghaberry Jail have won High Court permission to challenge the denial of legal and family visits.
William Wong and Michael Johnston are seeking to judicially review the ban imposed by prison authorities, which includes phone calls and court visits.
Both are being held in the separated regime in the prison's Roe House.
Dissident republicans being held there have been staging a protest over conditions.
Maghaberry authorities have stopped their access to visits due to health and safety concerns for staff, other inmates and the public.
Mr Johnston, 28, from the New Lodge area of north Belfast is on remand charged with possession of timer power units.
Wong, 22, and formerly of Dalton Close, Armagh, was jailed earlier this month for a minimum of five years for having a pipe bomb.
Their lawyers claim the prohibition breaches their rights under the European Convention on Human Rights.
Barrister Sean Devine, for Mr Johnston, argued that the ban on visits was an unprecedented situation.
He said: "This is incommunicado detention in the classic sense.
"They don't have any meaningful contact with anyone other than their captors."
Shower
Tony McGleenan, for the Prison Service, contended that the situation was down to the protesters refusing to wash.
He told the court: "The prisoners themselves can quite simply take a shower, change their clothes and they can have legal visits."
The judge, Mr Justice Weatherup, accepted there may be a serious health risk associated with the protest.
He said the prison authorities were justified in taking protective steps.
But granting leave to seek a judicial review, the judge held that the issue was what measures could be put in place to facilitate contact with legal advisers and family visits.
"The prison authorities have got an obligation to determine whether or not they can offer these facilities on any other terms," he said.
"This they have not yet done. Therefore I propose to grant leave in both cases while that is considered."
With the legal challenge set to be reviewed again later this week, prison authorities are expected to examine what other steps can be taken.
One possible method may involve installing a phone line to be used only by the protesters.