Gold price hits new record on US debt fears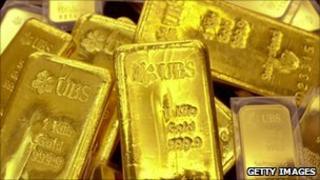 The price of gold has hit a new record high of $1,615 an ounce as concerns grow about the delay in US Congress agreeing a new debt ceiling.
Investors had hoped US policymakers would agree a new ceiling, thereby allowing the government to continue paying its bills, over the weekend.
The debt crisis in the eurozone has also helped to drive up the gold price in recent weeks.
Gold is seen as a safe investment and often rises in times of uncertainty.
The dollar also fell to an all-time low against the Swiss franc, which investors also tend to favour in times of economic instability.
Nominal high
The US risks defaulting on its $14.3tn (£8.7tn) debt without a deal to raise the borrowing limit by 2 August.
President Barack Obama and fellow Democrats are trying to agree a deal with Republicans, who control the House of Representatives, to raise the debt ceiling in return for cutting the annual budget deficit.
Mr Obama wants to achieve this by cutting spending and raising taxes, but the Republicans are so far refusing to agree to tax rises.
The new record gold price is only a nominal high. Factoring in inflation, gold would have to hit about $1,900 an ounce to hit an inflation-adjusted record.