Beer sales hit by higher taxes, says BBPA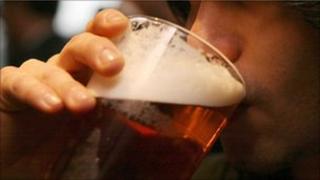 Beer sales at both pubs and supermarkets have fallen sharply in recent months due to higher taxes, according to the British Beer and Pub Association (BBPA).
Sales fell 10% in the three months to June against a year ago, as higher beer tax and VAT offset the royal wedding and warm weather, the group said.
It said taxes had added 10 pence to the price of a pint since last summer.
It added beer duty had risen by 35% in the past three years.
"Beer sales are a barometer of Britain's economic confidence," said the BBPA's chief executive Brigid Simmonds.
"With last year's sales figures benefiting from the World Cup effect, which has historically boosted sales, sustaining volumes was always [going to be] a challenge."
"Beer tax rises are now hitting our brewers and undermining recovery."