UBS expected to cut jobs as it seeks to save $2.5bn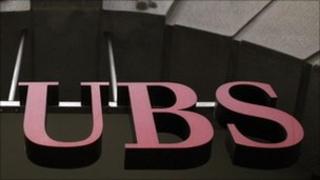 Major job cuts are expected at Swiss bank UBS after it announced plans to reduce costs by as much as 2bn Swiss francs ($2.5bn; £1.2bn) over the next two to three years.
UBS made the announcement as it reported a big drop in quarterly profit, hit by weaker trading and the high value of the Swiss currency.
Its net profit for the three months to 30 June was 1.015bn Swiss francs, 49% lower than 2.005bn a year earlier.
The results were worse than expected.
Continuing 'uncertainty'
The bank said the spending cuts would mean it faced "significant restructuring charges later this year", and as a result it warned it would not hit its full-year profit target.
UBS's revenues for the quarter totalled 7.2bn Swiss francs, down 14% from a year earlier.
Oswald Gruebel, UBS chief executive, said: "We are responding to this changed environment and the weakening economic outlook by adapting our business and increasing efficiency."
UBS added that "current economic uncertainty shows little sign of abating".
"We therefore do not envisage material improvements in market conditions in the third quarter of 2011, particularly given the seasonal decline in activity levels traditionally associated with the summer holiday season, and expect these conditions to continue to constrain our results," it said.
In February, UBS reported a net profit of 7.2bn Swiss francs for 2010, its first full-year profit since the global financial crisis.
The Swiss franc has risen in value this year due to the weakness in the eurozone making it a haven purchase for concerned investors.