iPhone chip designer Arm Holdings says profits higher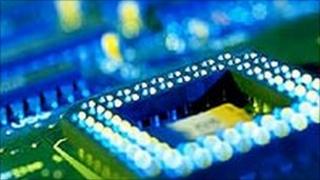 Arm Holdings, the UK designer of chips that power smartphones such as the iPhone, has seen its profits rise on increased demand for those devices.
Pre-tax profit rose by 14% to £33.8m in the second quarter, the company said, from the same period last year.
Arm's shares fell 2.5% after French rival STMicroelectronics posted a weak sales outlook.
"Arm enters the second half of 2011 with a healthy order backlog and a robust opportunity pipeline," it said.
The company said it had signed 29 new licenses for processors in the second quarter.
In US dollars, Arm's revenue increased by 27% to $190.2m (£116m). That figure is closely watched as the company makes most of its sales in dollars.
"We expect overall group dollar revenues in the second half of 2011 to be in line with current market expectations," Arm said.
Chip designs from Arm are used in hardware made by companies like Apple - in its iPhones and iPads - as well as Qualcomm, Samsung, Texas Instruments, Freescale, and Nvidia.
STMicroelectronics shares dropped by by 8.3% after it reported disappointing quarterly results. It made a net profit of $420m, less than analysts had expected.
The group also said that sales in the third quarter may be lower than in the second quarter, when analysts expected an increase of 6%.