Self-assessment: Paper problems caused tax delay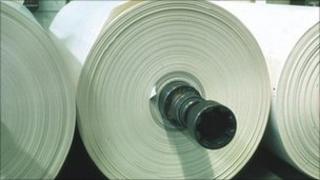 The UK tax authority has failed to order enough special paper, causing a delay in statements about unpaid tax.
Some people who file self-assessment tax returns receive a statement that outlines any tax due, with one payment deadline on 31 July.
The deadline has been extended for 500,000 people after HM Revenue and Customs (HMRC) admitted more people than expected needed to be sent statements.
This had led to some being sent late.
Sharp rise
HMRC usually tells people in the self-assessment system who have to pay their taxes "on account" that they should make two estimated tax payments, one by 31 January and the other by 31 July.
These are mainly sole traders, the self-employed, and partners in businesses or limited liability partnerships.
They make payments in January and July 2011 based on the tax they paid for the tax year 2009-10. A balancing payment, or refund, will be paid in January 2012 to iron out any differences between the estimate and the actual amount.
But this year the statements for July have been delayed for some people. HMRC said it underestimated the number of forms printed on special paper - similar to credit card statements - that were required.
"The volumes on this occasion have risen out of all proportion to previous patterns. HMRC will now ensure that they understand the reasons for this and will be fully prepared for any future rises," a spokesman for the tax authority said.
HMRC said the late statements would go out in August and, so long as people paid within 30 days, no interest would be charged.
Online
Many people now file the tax returns on the internet, and an HMRC spokesman said that these people could check their statement and pay online. They were also able to pay on the telephone.
"This in no way prevents the accurate payment of tax and no one will be out of pocket as a result," the spokesman said.
"We very much regret any inconvenience and will send paper statements to everyone who should have one as soon as possible."
Stephen Herring, a partner at accountants BDO, said: "I am reassured HMRC are not going to charge interest to taxpayers on later payments due to HMRC's own delays. But tax is inevitably complex and taxpayers will need to pay careful attention to their tax demands to make sure this policy is actually carried out."
Mike Warburton, at accountants Grant Thornton, suggested few people would be inconvenienced.
"People who pay on account are usually people with large incomes which has not been taxed at source and will typically have accountants representing them," he said.
It is not the first time statements have arrived late. A similar problems affected up to 600,000 self-assessment customers in January 2008.