US new home sales fall again in June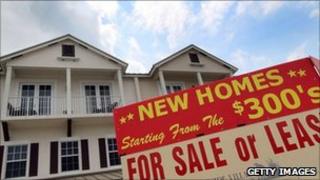 US new home sales fell for the second month a row in June, figures have shown, indicating continuing weakness in the housing market.
Sales fell 1% in June to a seasonally adjusted annual rate of 312,000, from a downwardly revised 315,000 in May, the Commerce Department said.
Separate surveys found US home prices rose slightly between April and May, while consumer confidence grew in July.
High unemployment and a weak house market are undermining the US recovery.
'Good news'
Oversupply of used homes and a large inventory of foreclosed properties are undermining the market, analysts say.
The closely-watched Case Shiller home price index showed home prices falling by about 4% year on year, although prices rose by about 1% between April and May.
"I think there is modest good news here, that home prices are possibly stabilising," said Carl Riccadonna at Deutsche Bank in New York.
"It's a subtle silver lining but opposed to ongoing declines, I will take it."
'Apprehensive'
The Conference Board's consumer confidence index rose to 59.5 in July from 57.6 in June.
However, the board said the rise reflected an improvement in consumers' short-term outlook.
"Consumers' appraisal of current business and employment conditions, however, was less favourable as concerns about the labour market continue to weigh on consumers' attitudes," said the Conference Board's Lynn Franco.
"Overall, consumers remain apprehensive about the future, but some of the concern expressed last month has abated."
Analysts said it was difficult to read too much into the housing and consumer confidence data, in part because the monthly figures are fairly volatile.