Fiat profits boosted by Chrysler takeover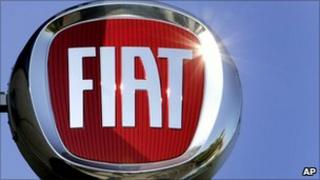 Italian car giant Fiat has reported a sharp turnaround in profits in its first results since taking a majority stake in US carmaker Chrysler.
The firm made a profit of 1.24bn euros ($1.8bn; £1.1bn) in the second quarter, compared with a loss of 17m euros a year earlier. Revenue rose 40% to 13.2bn euros.
As well as integrating Chrysler, Fiat said its own performance had improved.
The group also raised its revenue forecast for 2011 to 58bn euros.
"I think that overall the quarter has been a significant quarter for Fiat for a couple of reasons," said group chief executive Sergio Marchionne.
"One, we have improved our operating performance. More importantly, it is the first time we are seeing the impact of Chrysler in the consolidated accounts of Fiat."
Debt concerns
As well as its own eponymous brand, Fiat owns Ferrari, Maserati and Alfa Romeo.
Revenues at Ferrari rose by 20% to 589m euros, while those at Maserati slipped by more than 3% to 168m euros.
However, as well as benefiting from Chrysler's revenue, Fiat has taken on the US company's debts.
As a result, the combined company's net debt now stands at 3.4bn euros, of which 979m relates to Fiat.
For this reason, shares in the group fell by 4.5% in Milan.
Last month, the US Treasury confirmed it was selling its remaining 6% stake in Chrysler to Fiat for $500m (£306m).
The US government bailed out the firm in 2009.