Sun Art shares surge 41% on Hong Kong debut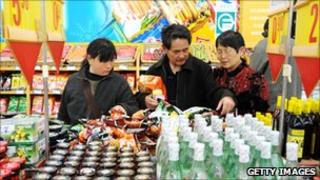 Shares of Sun Art Retail Group surged on their debut on the Hong Kong stock exchange as investors were optimistic that consumer demand in China will grow further.
Sun Art shares closed 41% higher to HK$10.14 from the initial price of HK$7.20 on Wednesday.
The debut comes at a time when high-profile companies such as Prada have had lacklustre starts on the exchange.
Sun Art is China's biggest hypermarket operator.
Analysts said given the growth in the Chinese consumer market, the shares are poised for further gains.
"The stock can jump further as investors are seen excited by its growth story," said Alex Wong of Ample Finance Group.
Growth potential
China's economic growth has seen the rise of a more affluent middle class. Higher disposable incomes have seen spending power of consumers go up in recent times.
As domestic demand increases, China's hypermarket sector is forecast to grow at a annual rate of more than 10% between 2010 and 2015, with total market size projected to reach 911bn yuan ($141bn; £86bn) by 2015, according to some estimates.
As the sector grows, Sun Art has been looking to increase its market share even further.
It raised $1.1bn via an initial public offering (IPO) of its shares in Hong Kong to fund its expansion plans.
Sun Art currently operates 196 hypermarkets in the country under two brands, Auchan and RT-Mart.
The retailing giant said it has obtained more than 120 sites for new complexes, with more than 50 locations under development.
Analysts said Sun Art's dominance of the Chinese market will grow even further in coming years.
"Sun Art is very well positioned," said Oscar Chung of Capital Securities Investment Trust.
"It is the leader in the future's biggest retail market," he added.
Overpriced?
Sun Art was only the second $1bn-plus IPO that was priced at the top end of its indicative range.
While the investors continue to back the stock, there have been concerns that the shares may be overpriced.
However, Ample Finance's Mr Wong said that given the pace at which China's economy has been expanding, investors have no option.
"The stock is overpriced, but you have no choice but to pay a high premium if you [want to] buy pure China growth story," he said.