Nissan profit drops 20% after earthquake and tsunami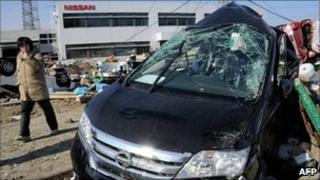 Nissan's net profit fell 20% in the April to June quarter in the wake of the 11 March earthquake and tsunami.
Japan's carmakers were badly hit as the disasters disrupted car production and destroyed dealerships.
Net profit came in at 85bn yen ($1.1bn; £666m), also dragged down by higher material costs and a rising yen.
But Nissan's production has been recovering faster than its rivals and it is expected to outshine Toyota and Honda who report next week.
"Our rapid recovery from the natural disasters in March once again shows the power of Nissan in responding effectively and decisively to crisis," chief executive Carlos Ghosn said.
Net sales rose 1.6% to 2.08 trillion yen.
The company sold 1,056,000 vehicles in the quarter, up 10.6% on the same period last year.
On Tuesday, Nissan revealed plans to invest 50bn yuan in China as it seeks to increase its share in the world's biggest car market.