Hyundai poses European challenge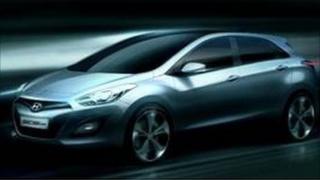 Unveiling the replacement for its best-selling car is important for any car maker.
But for Hyundai, revealing a new version of its compact i30 model at next week's motorshow in Frankfurt is a particularly big deal.
The South Korean manufacturer sees Frankfurt as home turf these days, having based its European headquarters in nearby Russelsheim, complete with a well-funded research and development division and a design centre set up to pen cars tailored for European drivers.
"At least 30 countries want to be called European and all those countries are different, so we've had to find the common genes," observes Hyundai Europe's president, Chang Kyun Han, in an exclusive interview with BBC News.
Hyundai Europe considers itself a local player these days. In the autumn, it will add a third shift to its factory in Nosovice in the Czech Republic, boosting output to 300,000 cars per year, and in January next year it will become a member of the European Automobile Manufacturers' Association (ACEA).
'Delivers exceptional value'
By then, on the back of sales expected to top 400,000 this year, it hopes to have raised its market share in Europe to 3%, up from 2.6% in 2010 and 2.4% in 2009, Mr Han says.
Hyundai's growing popularity in Europe has been hard won.
For more than a decade, the car maker has invested some 5% of its revenue in research and development.
This has resulted in a wide range of models that are widely recognised to be miles better than those it used to make in the past, both with regards to their looks, their quality and their safety and emissions performance.
"This is a company," according to the consumer association Which?, "that not only offers outstanding products, but also delivers exceptional value and a great customer experience."
Which? crowned Hyundai Best Car Manufacturer 2011.
Consequently, the days are gone when Hyundai was prepared to offer deep discounts and accept low or no profits in order to bolster its market share, Mr Han insists.
"In the past we did, but not anymore," Mr Han said.
"Hyundai is not a cheap brand any longer. We want to be premium and we want a healthy business in Europe."
'Unbalanced' agreement
Europe's indigenous motor industry sees Hyundai as more than just a credible rival, however, pointing to how a bilateral trade agreement between the European Union and South Korea gives it and its sister company Kia unfair advantages.
"We are very much in favour of free trade," says Paul Everitt, chief executive of the UK industry body SMMT.
"But our experience with South Korea is not a happy one."
In written evidence to the UK Parliament, the SMMT describes the free trade agreement as "unbalanced for the automotive industry, with a likely negative impact on the sector" and stresses the importance of such agreements being "transparent and truly beneficially reciprocal".
ACEA insists that the free trade agreement "would enable South Korean manufacturers to offset the rise in production costs in their home country, at the expense of fair competition for EU manufacturers, and at the expense of South Korean production in the EU", whilst "EU access to the Korean car market will remain severely capped because of the problem of non-tariff barriers".
"In 2009, the EU exported just 33,000 cars to South Korea," ACEA continues.
"South Korean manufactured cars control more than 95% of the Korean market; South Korea has the lowest level of import penetration of any developed country."
'No formal barriers'
Mr Han is dismissive of the arguments put forward by the European motor industry, insisting "there are no formal trade barriers anymore".
Indeed, "the rising won and aggressive marketing by European car makers in the Korean market following the free trade deal will pose a risk for Hyundai's growth," according to Dream Asset fund manager Ko Seung-Jae.
And although Mr Han acknowledges that "more non-tariff barriers could be removed", he insists this is the case in the European Union as well.
"They can be nervous," he says. "We are improving our quality, our sales, our customer satisfaction, and we will do more."
Currently, Europe accounts for about 10% of Hyundai's global sales, so the car maker's ambitions for growth here are great following strong performance globally in recent months.
Shares in the company rose 40% during the first half of the year, aided substantially by a 37% rise in net profits during the April to June quarter to 2.3 trillion won ($2.2bn; £1.3bn).
"Hyundai has new factories ramping up production, its quality has improved and foreign sales are good," says Yurie Asset Management fund manager Park Jung-Won.
"In the long term, I think the outlook on Hyundai will remain bright."
Fierce rival
In Europe, the new i30 will do much to help Hyundai reach its targets.
The outgoing model still accounts for about a third of Hyundai's sales here, even though it is coming to the end of its life.
This bodes well for the medium-sized model's future sales, though it is perhaps the company's larger i40 model, which was unveiled in Geneva in March, that is spooking European rivals the most.
The i40 marks Hyundai's entry into the fleet and company car market, which is currently dominated by cars such as the Ford Mondeo, the Opel/Vauxhall Insignia and the Volkswagen Passat.
And with new Hyundai models set to appear every year from now on, it seems the competition from Hyundai is only set to grow more fierce.