Virgin Media loses 36,000 customers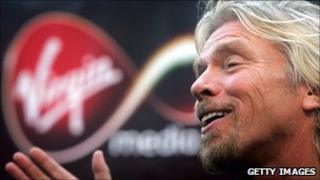 Virgin Media lost 36,000 customers in the three months to the end of June, but made more money from its remaining customers.
The company said 90% of the lost users were its lower-paying ones, who used only one or two of Virgin's services.
The decline brings its total number of cable subscribers to 4.8 million.
The average spend per user rose 3.2% to £47.35 a month, as Virgin tried to concentrate on higher-spending customers.
Despite the fall in users, Virgin Media's revenues rose 2.2% to £986m in the quarter. The company said that in most years it does see customer numbers dip during the second quarter - although this was the sharpest drop over the past four years, and in 2010 it actually managed to add 7,100 customers.
The company provides cable television, telephone and broadband services, as well as mobile phones.
It has announced a larger-than-expected £850m share buyback programme.
Revenues from its mobile phone business fell 3% as a result of changes to the amount it is allowed to charge in connection fees.