Post Office card accounts hit by computer problem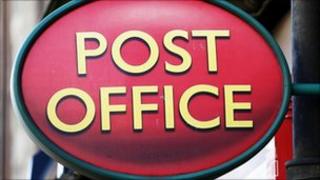 Normal service has been resumed after a computer problem blocked access for 3.3 million customers with Post Office card accounts, the organisation has said.
Transactions involving card accounts, as well as debit and credit cards, using the pin pads at branch counters were affected.
A spokesman said all 11,820 branches in the UK remained open.
But he apologised for the problems and said that special arrangements had been made for emergency cases.
Benefit payments
Claimants have their pensions and benefits paid directly into a bank account.
But some pensioners can have these funds paid into a Post Office card account instead. They can then use this card at the Post Office to draw out the money in cash.
It is the keypads in branches across the country that were affected by the computer glitch, the organisation confirmed. The Post Office's network of 2,000 cash machines is unaffected by the problem, which started on Wednesday morning.
There are 3.3 million people with Post Office card accounts. Most use these accounts on a monthly or weekly basis to withdraw money.
Those who found they were locked out of their accounts on Wednesday were able to receive a £20 emergency cash payment. Fewer than 1,000 pensioners and benefits claimants have so far taken this option.
Anyone affected can ask counter staff for the £20 payment once a day, which is paid after the clerk verifies there are enough funds in the account.
'Worrying'
"It would be extremely worrying if the Post Office's computer problems leave vulnerable consumers, especially the many older people who rely on these accounts, unable to access their benefits or pensions," said Andy Burrows, of watchdog Consumer Focus.
"Special arrangements are being made for emergency cases. It is important that all customers are made aware of this and that people are not left unable to withdraw cash when they need it."
People trying to buy items or services, such as travel insurance or foreign currency, using a debit card in branches would have also been affected. They would need to use a cash machine to withdraw money to pay instead.
"We apologise to customers for any inconvenience caused by a problem with the pin pad system in our branches," said Post Office commercial director Martin Moran.
The company said the problem was resolved at about 15.30 (14.30 GMT) this afternoon.
Wednesday is generally the quietest day of the week for Post Office transactions, a spokesman said.