Why do carmakers sponsor sports?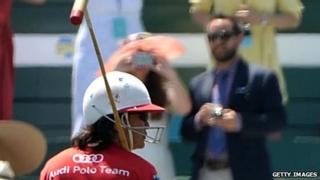 To Vauxhall's managing director Duncan Aldred, the decision to sponsor the UK's four home football associations in England, Scotland, Wales and Northern Ireland was an easy choice.
"The two real interests of people in this country are cars and football," he says.
"It's a national sport, it's got more interest, support and media coverage than any other sport in this country, and Vauxhall is a uniquely British brand, so it's a perfect match."
Mr Aldred's excitement about sports sponsorship is almost tangible. But it is far from unique.
Executives throughout the motor industry are writing cheques with gusto in return for their logos being plastered all over stadiums and apparel worn by elite athletes.
And they are all convinced it helps them sell more cars.
'Fairly opportunistic'
So sure are they, in fact, that rivalry for the most attractive sponsorship deals seems to have become a sport in its own right.
"It always depends on what's available," explains Vauxhall's Mr Aldred. "You've got to be fairly opportunistic when it comes to sport sponsorship."
It is all about getting in there first with a good offer to prevent a bidding war. Once a deal is done with one carmaker, the opportunity is a lost one for its rivals.
This goes a long way to explain why executives working for the South Korean carmakers Hyundai and Kia are so chuffed.
Between them, the sister companies have nabbed two of the biggest football tournaments in the world, the Fifa World Cup and Uefa Euro 2012 championship.
"Football is the most popular sport in the world, not just in Europe but also on other continents," observes Hyundai Europe's president, Chang Kyun Han in an interview with BBC News.
Kia UK is also sponsoring ITV's coverage of the FA Cup, so its managing director Simon Hetherington agrees that "there's nothing like football to reach a very wide audience - especially in the UK".
Brand building
But although both Vauxhall and Hyundai/Kia have chosen football to build their brands, their reasons for doing so differ.
Vauxhall has chosen "Home Nations" football to bolster already strong customer loyalty, Mr Aldred says, pointing to research that has found a strong correlation between those who are well aware that Vauxhall is the main sponsor and the ones who say they would consider buying one of its cars.
"People are very warm to their national teams," he says, "and the association with our brand is very strong."
For Hyundai and Kia, however, it is more about building a broader global recognition of their brands.
"We have a weak brand image so we need some leverage," says Hyundai's Mr Han, while Mr Hetherington explains that Kia's strategy "is to behave like a big brand; we're much bigger than people realise".
Global sports
BMW Group's head of sales and marketing, Ian Robertson, agrees that worldwide reach is important.
"There are few sports that are global and that share our values," he says, though he is convinced that he has found what he was looking for with BMW's sponsorship of the London 2012 Olympic and Paralympic Games.
"The Olympics and its ideas of sustainability, competitiveness and individual struggle are also BMW values," he insists.
"You can expect to see BMW and the Olympics together for the foreseeable future."
Different sports
Other carmakers may justify their marketing spend in a variety of different ways. In fact, there seems to be almost as many reasons to sponsor sports as there are sports to sponsor.
Image building is central to Audi's sponsorship of polo, which attracts endless press coverage thanks to the sport's close links with the Royal Family in the UK.
Polo and such royal links have also helped attract celebrities to glamorous Audi-events, which in turn results in even more media coverage.
But it was not the potential for media attention that attracted Audi to the sport, explains Jon Zammett, head of PR in the UK.
"When you get this high up in the foodchain, its not enough to exist on pages and screens, you also have to maintain a presence where the clients are," he says.
"It's about maintaining the brand image face-to-face, with polo being a backdrop for high-grade entertainment and relationship building."
Besides, he adds, the lack of other carmakers in the world of polo means Audi had a chance to be the sport's lead sponsor in the UK.
Golf sponsorship, meanwhile, seems to be all about being a player in the corporate world, and here there is a queue of carmakers eager to take part - including Honda, Ford, Chrysler, Buick, Mercedes and BMW, to name but a few.
Golf is "an excellent platform" to showcase the Mercedes brand, according to Wilfried Steffen, head of business innovation, which sponsors the Masters, the PGA Championship, the 2012 Ryder Cup and The Open to support a variety of "marketing activities and customer care measures".
The website Golf Today describes the car industry as the "backbone of golf sponsorship", and quotes Buick general manager E T Ragsdale saying the connection between cars and golf is clear: "Golfers need transportation; automobiles provide it. It's a simple as that."
Honda's US sales and marketing boss Dick Colliver says "the demographics of the [golf] viewing audience are exactly what we are looking for".
"You get golfers around the world watching... and talking about it, and at the same time you're reaching them with messages about your product."
Local events
In addition to global sponsorship deals, many carmakers are also targeting local sports.
"The more local events are more about reaching a particular audience," says Mr Hetherington. "We are trying to reach the company car audience, which is more of a cricket audience in the UK, so we're sponsoring cricket here in Surrey."
Elsewhere, Kia sponsors NBA basket ball in the US, while Hyundai sponsors rugby in Italy, ice hockey in Germany and golf in India.
Golf is a strong rival sport to cricket, with a perhaps even greater audience profile for firms eager to reach executives and company car drivers, though here the market has been pretty much taken over by other carmakers.
"We would like to do more, but there's no room," laments Mr Han.
Corporate spending
Neil Hobday, the recently appointed chief executive of Guards Polo Club, has years of experience from the multi-sport marketing and management agency Carnegie Sports International and the sports agency International Management Group (IMG).
He says sports sponsorship has become a vital source of income for sports clubs across the world.
Mr Hobday distinguishes between their 'above the line' advertising, which is what you see on TV and their sponsorship, which he describes as 'below the line' advertising.
"And that is a huge area of corporate spending as well," he says.
For sports clubs and their audiences, the benefits of such spending by carmakers are obvious, in that it brings the clubs an income and helps cut ticket prices for the punters.
Though the belief that sponsorships actually helps them sell more cars is much trickier to prove.