SAP shares rise on strong results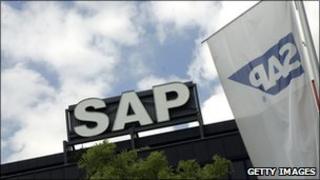 Shares in SAP are leading Germany's Dax index for the second day running after the business software maker reported a sharp jump in profits on Tuesday.
Net profit for the three months to June jumped 20% to 588m euros (£519m), while total revenue rose 14% to 3.3bn euros.
Shares in SAP closed up 1.2% after climbing 6% on Tuesday.
Some analysts estimated from the results that SAP had taken market share from arch rival Oracle for the first time in one and a half years.
"SAP is regaining market share more quickly than we had expected. For the first time in seven quarters, SAP's organic licence growth has outpaced that of Oracle, we estimate," said Rajeev Bahl at Matrix Research.
Stacy Pollard, analyst at JP Morgan, estimated that SAP's organic application growth, excluding Sybase which it bought last year for $5.8bn, was 18% during the quarter, versus 16% for Oracle.
"We believe SAP saw increases in both the volume of deals and the number of large deals," she said.
The firm now expects to reach the high end of its 2011 forecasts, appearing to confound fears of a slowdown in debt-troubled Europe.
Addressing concerns about Europe, SAP co-chief executive Jim Hagemann Snabe said: "I see strong commitment from the main leaders in Europe to see that the euro is stable."
Asked about the US, he said he could not predict what effect a possible US debt default would have on the company.