The price of high-speed ambitions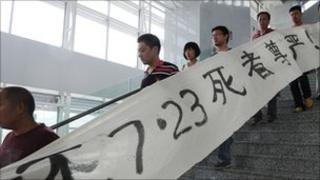 As China mourns lives lost in last week's high-speed rail crash near Wenzhou, there is also a tone of anger in the air.
"The people don't need this world number one or that world title. All we want is safety!," commented one reader of a news story posted on the popular Sina portal.
But the crash's other casualty is likely to be China's ambitions for its railway technology, which it has been developing rapidly and had high hopes of making an export success.
Before the crash, all talk had been of the government's drive to break records. The high-speed rail network was to be the largest in the world, as well as being completed in record time.
Those accolades are no longer being thrown around, as some blame that urgency and ambition for the death of at least 39 people.
The first of China's bullet-train lines opened in 2007 with plans to lay 16,000km (10,000 miles) of high-speed track by 2015, making it the biggest high-speed rail network in the world.
Technology issues
But the project has had its share of problems, even before the fatal crash.
First because of allegations of mass corruption that went all the way to top of the railway ministry, then later for delays caused by power shortages.
But some say that this latest incident could have been prevented, had authorities heeded the alarms raised.
"The Japanese say they have warned the Chinese for years about scaling up on this rapid pace," says Allistair Thornton from IHS Global Insight.
This is regarded as significant as some of the technology which Chinese companies say they 'reinnovated' was bought from Japan's Kawasaki, as well as from Canada's Bombadier and Germany's Siemens.
The other allegation is that the construction period was shortened unnecessarily.
"There is criticism on this kind of acceleration of the construction, experts warned there could be some problems in later operations," says Ingrid Wei, infrastructure analyst for Credit Suisse in Shanghai.
Global plans
However, Chinese companies were thinking even further ahead, past completion date.
Chinese train companies CSR Corp, CNR Corp and China Railway Group were hoping to sell the new technology to foreign countries, directly competing with the likes of Siemens and Bombadier.
But the crash has shaken public faith in China's rail system both inside and outside of the country.
Experts say that means potential clients such as Malaysia, Venezuela and Saudi Arabia who were looking into replicating China's rail expansion plans will be putting those ambitions on hold.
And potentially highly lucrative markets for China such as the US, will no longer be options.
"It's pretty hard to imagine any politician in the US signing on the dotted line for Chinese high-speed rail now. And so that's a huge market the Chinese were hoping to tap into and that's evaporated," says Mr Thornton.
Profit or loss
That poses an even bigger financial problem for the state-owned rail companies.
The Chinese government has invested huge amounts of money into developing the high-speed rail network.
"It's not clear whether they will now be able to turn this into a profitable enterprise," says Mr Thornton.
Not least because ticket prices are too high for many Chinese consumers to afford. And after the crash, many others will be deterred from taking the high-speed trains.
However, Ms Wei says the high-speed rail network project is a state asset and will be strongly supported by the central government.
Before then, the government will have to answer some tough questions: why the systems failed and why safety was not the top priority.