Ford to open new unit in India to boost market share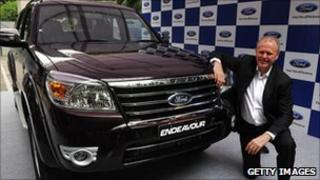 US car maker Ford is planning to expand its operations in India as it attempts to capture a greater share of the country's car market.
The US carmaker says it plans to invest $1bn (£612m) in building a new factory in the western state of Gujarat, its second production line in India.
The announcement comes as Ford is looking to increase its global sales by 50% over the next four years.
India is one of the fastest-growing car markets in the world.
"These new state-of-the-art facilities will help us reach the goal of increasing worldwide sales by nearly 50% by mid-decade to about 8 million vehicles per year," said Michael Boneham, president and managing director of Ford India.
'Growth potential'
India's rapid economic expansion has seen demand for higher-value items such as cars increase substantially.
Car sales in the country grew by almost 30% in 2010, making it one of the most attractive markets for manufacturers.
On Wednesday, Toyota, the world's biggest carmaker, said it planned to invest $220m to nearly double its production capacity in India by 2013.
Ford, which has been manufacturing cars in India for more than 10 years, has also been looking to increase its market share.
The launch of new models has led to robust sales growth in the first six months of year. The company said it was looking to exploit the market even further.
"We are aggressively expanding in markets around the world that have the most growth potential," said Mr Boneham.
He added that the company planned to offer more "fuel-efficient, high-quality vehicles from our global portfolio that customers in markets like India want and value".