Rolls-Royce profits up as engine sales rise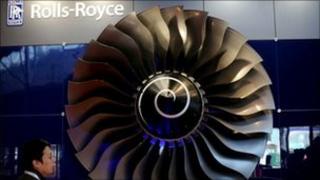 Aircraft engine maker Rolls-Royce has reported an increase in profits due to a rise in commercial engine sales.
Underlying profits before tax rose 28% in the first half of this year to £595m, which was better than analysts had predicted.
Revenues from sales on engines for civil aircraft increased 14% and Rolls Royce announced £8.7bn of new orders.
It brings its total order book to £61.4bn - an all time high for the world's second largest engine maker.
'Good growth'
International air traffic has increased by 8% so far this year according to the industry body IATA, driving demand for new planes and engines.
Rolls-Royce is the second largest manufacturer of aircraft engines in the world - after General Electric in the US.
The rise to orders also includes new business in its defence, marine and energy divisions.
"For the full year, we continue to expect good growth in underlying profit," said chief executive John Rishton.
On Monday, the European Commission cleared a planned take-over by Rolls-Royce and Daimler of German diesel engine maker Tognum.
Last month, Australian carrier Qantas agreed a settlement with Rolls-Royce over a mid-air blast incident and the grounding of the Qantas fleet of A380 superjumbos. Rolls-Royce will pay 95m Australian dollars ($100m; £62m).
Despite the incident the engine maker announced an order from Asiana Airlines to supply six A380 superjumbos with the same Trent 900 engine.
Taking into account profits or losses from £21bn worth of hedges on currency, interest rates and jet fuel in its full results, Rolls Royce's profit before tax for the six month period was £1.1bn.