Nintendo profits hit by weak 3DS console sales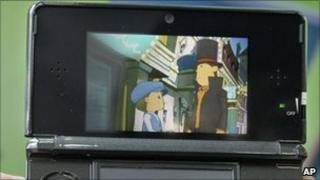 Japanese gaming giant Nintendo has reported a surprise loss, hit by weak sales of its new 3DS handheld game player.
The company reported a net loss of 25.5bn yen ($324m, £201m) for the April-to-June quarter, compared with a loss of 25.2bn yen last year.
For the year to March 2012, Nintendo now expects a net profit of 20bn yen, down 82% from its previous forecast.
It has cut the price of the 3DS console sharply in Japan and the US.
The price in Japan will be about 40% less - retailing at 15,000 yen. In the US, the price will drop next month to $169.99 from $249.99.
"For anyone who was on the fence about buying a Nintendo 3DS, this is a huge motivation to buy now," Nintendo's US president Reggie Fils-Aime said.
Analysts said Nintendo lacked hit games titles to fuel sales of its consoles.
Nintendo's total sales during the quarter fell by more than 50% to 93.93bn yen.
About 80% of Nintendo's sales are from outside of Japan, meaning it has been hit severely by a strong yen.
The company's shares in Tokyo have fallen by more than 40% this year.