House price moves varying by region, says Land Registry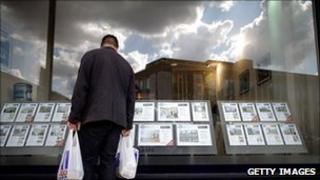 House price changes in the different regions of England and Wales varied sharply in June, figures from Land Registry show.
There was a 2.8% rise in prices in Wales from May to June, but a 2.1% fall in the same period in the north-east of England, the data showed.
But, on average prices were unchanged, with the average home costing £161,479.
Year-on-year, there was a 2.5% drop in property prices, with only London recording a rise.
The annual change varied from a 0.8% rise in London to a 7.1% fall in the North East of England.
"Even within the London microcosm, we are seeing a big divergence between the prime market and the rest," said Nicholas Ayre, director of UK buying agents Home Fusion.
"At the top end of the market, supply is limited and demand is booming. With the pound relatively cheap, ultra-rich international buyers are spraying their money around the most desirable areas."