National Asset Management Agency reveals UK properties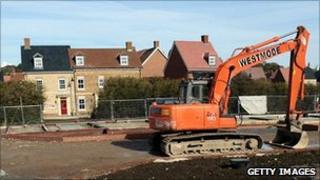 The Irish government agency created to manage the toxic property loans of its banks has revealed details of the billions of pounds of property it controls in the UK.
The National Asset Management Agency (Nama) listed 847 properties in the UK and Irish Republic linked to developers it has forced out of business.
The agency said there would be no fire sale of cheap properties.
Nama took charge of the bad property debt from Irish banks in 2009.
Property mix
From a cinema in Leicester Square to housing schemes in Leeds, the detailed list provides some insight into the eclectic and extensive portfolio of property in the UK now controlled by the Irish agency.
Over 250 UK Nama properties are listed. In London, the agency has control over a major site in Leicester Square, a hotel in Shoreditch and property developments - some complete and others unfinished.
Others across the country include the Concorde Business Park in Maidenhead; the Arcadia Centre in Ealing; the Menai Centre Car Park in Bangor; and a mix of retail and residential developments in Scotland and Northern Ireland.
The list includes only those developments that have gone into receivership. Many other developers have signed agreements with Nama and are continuing to trade under its supervision.
Disposals
The agency took control of the bad property debt from Irish banks during the height of the financial crisis and it is tasked with maximising the return to the Irish taxpayer over the long term.
It has pledged that there will be no "fire sale" in the UK and that it will not flood the market with cheap property.
However, figures contained in the annual report confirm that of 3.9bn euros ($5.6bn; £3.4bn) worth of sales to date, 80% have been outside the Irish Republic.
The agency has said that it wants to dispose of 5bn euros of UK loans in 2011. Its annual report listed total UK assets of about £8.5 billion.