Shift in balance of power between Sky and Murdochs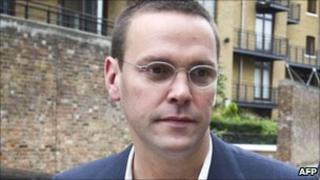 Judged as a business at a time of sluggish growth for the British economy, the progress at BSkyB looks remarkable.
Revenues were 16% higher at £6.6bn in the past year. Operating profits were up 23% to over £1bn.
The dividend is being increased 20% and the total number of Sky customers - for TV, broadband and telephony - is 10.3m, up from 9.9m.
And BSkyB probably won't be harmed by having bought the rights to show every F1 contest from 2012 to 2018, with the BBC's coverage of live races cut by half.
In that sense, the UK's largest media company seems undented by the crisis at its largest shareholder, Rupert Murdoch's News Corp which owns 39% of BSkyB - and which supplies the chairman of BSkyB, James Murdoch, also chairman of News Corp's UK operations.
The board of BSkyB last night backed James Murdoch to continue as their chairman, in spite of the disclosure of systematic abuses at the News of the World, owned by News Corp - and in spite of the claims by his erstwhile colleagues, Colin Myler and Tom Crone, that James Murdoch's knowledge of the extent of phone hacking at the News of the World may have been greater in 2008 than he says it was.
One member of the board told me that the decision to back Mr Murdoch could not be seen as being forever.
If evidence were to emerge that damaged the credibility of Mr Murdoch then the board would have to reconsider whether he needed to stand down.
"Of course it is likely we will have to revisit the question of whether James is the best chairman", said one. "In that sense he is on probation."
That said, Jeremy Darroch, BSkyB's chief executive told Radio 4's Today programme that - having worked closely with James Murdoch as chairman for years -he had no doubt about the integrity of Mr Murdoch.
By way of an aside, Mr Darroch's Today interview may represent a first in British corporate governance: I can remember plenty of occasions where the chairman of a public company has backed a chief executive (because it is the primary responsibility of a chairman to back or sack the chief executive) but I can't remember any occasions where a chief executive has publicly endorsed a chairman.
Corporate governance purists will seize on Mr Darroch's support for Mr Murdoch to say it shows the two men aren't sufficiently arms-length from each other.
Certainly, in Mr Darroch's backing for Mr Murdoch and in another respect, today's results from BSkyB represent a potentially significant change in the balance of power between BSkyB and News Corp.
BSkyB is handing £750m of cash back to shareholders.
In the past, News Corp might have refused the cash in order that its stake in BSkyB - and its influence over the company - would rise.
This time, the Murdochs are taking the cash.
Which tells you, perhaps, two things. First, News Corp isn't in quite as good financial shape as BSkyB, and needs the cash.
Second, News Corp probably doesn't want to spark the inevitable furore of protest from its critics - and the increased pressure on the regulator Ofcom to determine whether it is a fit-and-proper owner of BSkyB - that would follow if its stake in BSkyB were to go above 40%.