Royal Mail wants to be able to leave post next door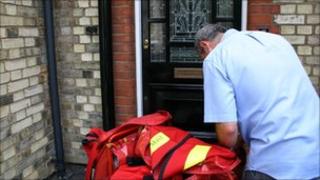 Royal Mail wants permission for its postmen and women to be able to leave some post with a neighbour if the addressee is not at home.
It wishes to trial the idea for mail that is too large to post through a letter-box, and for some post that requires a signature.
Special delivery mail will not be included in the planned pilot scheme.
The Royal Mail also wishes to reduce the time in which consumers and firms can make a compensation claim.
Watchdog Consumer Focus said that while some consumers would welcome the idea of being able to have mail left with a neighbour, "worryingly there is no opt-out option".
"For many people having their mail left with a neighbour they do not know, or might not trust, could open the door to problems," said its director of post, Robert Hammond.
'Popular location'
At present, postmen and women have to take items of mail back to their delivery office if the named recipient is not at home and the items cannot fit it through the letter box, or require a signature.
Royal Mail said the planned pilot scheme was in response to consumer demand.
"In a recent survey, leaving an item of mail with a neighbour was the most popular location for delivery when no-one was at home to receive the mail," it said.
Any decision to allow the pilot scheme will be made by postal service regular Postcomm, which has now launched a public consultation.
It is seeking responses by 9 September.
Better investigate
The Royal Mail wants to reduce the time in which both household and business customers can claim compensation for lost or damaged items from up to 12 months after an item is posted, to 90 days for a six-month period.
It then wants to cut this further to 60 days next year.
Royal Mail said: "This will enable Royal Mail to better investigate the loss of an item and improve our ability to find it and return it to the sender."
It added that "approximately 70% of consumers" already claim compensation within two months of posting. But watchdog Consumer Focus pointed out this meant almost a third did not.
Royal Mail also wishes to introduce a standard holding period of 18 days for items that could not be delivered to an address, down from the current 21 days for most methods of delivery.
Further, it wants business contract customers to no longer be able to seek compensation for the loss or damage of postal items sent using untracked services such as Mailsort and Packetpost.
Postcomm will again have to rule on all these issues, and is again seeking public responses by 9 September.
Consumer Focus called on Postcomm to look "long and hard at whether these moves are in customers' interests and whether they are warranted".
"While changes to keeping undelivered mail are sensible, the proposals on compensation and leaving mail with a neighbour would cut consumers' rights, leaving many losing out," said Robert Hammond.
Postcomm's regulatory responsibility for the postal service is due to be transferred to Ofcom in the autumn.