Yahoo and Alibaba reach on Alipay payment service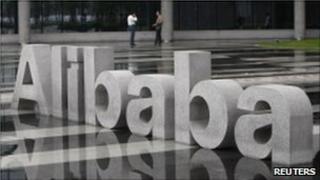 Yahoo and Chinese internet company Alibaba have reached an agreement over its online payment service Alipay.
On Tuesday, Yahoo said Alibaba - in which Yahoo owns a stake - had spun off its online payment service Alipay without informing it.
Yahoo and Alibaba have now agreed that Alibaba would benefit from any future financial gain, such as a public offering.
Alibaba will also license some of its intellectual property to Alipay.
Alibaba will receive a minimum of $2bn (£1.2bn) and a maximum of $6bn from the sale of Alipay, under the terms of the agreement.
Earlier in the week, Yahoo said Alipay was transferred to a Chinese company, owned mostly by Alibaba chief executive Jack Ma, in August 2010.
Yahoo said it only found out about it in March this year. However, Alibaba insists the transaction was talked about at a 2009 board meeting.
Yahoo owns a 43% stake in Alibaba.