Shares fall as US debt-deal relief rally fizzles out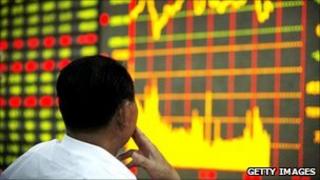 Wall Street went into reverse as initial optimism over an agreement to raise the US debt limit fizzled out.
The Dow Jones index, having opened sharply higher, was down 0.5% within an hour of the start of trading.
European bourses also closed down, with the FTSE 100 0.7% lower, Germany's Dax down 2.8%, and France's Cac 2.3% off.
News that President Barack Obama and Congressional leaders reached a deal to raise the US debt ceiling initially boosted markets in Asia and Europe.
But in America, a relief rally at the start of trading on Wall Street faded as investors digested data showing that US economic growth was much weaker than first thought.
The Dow Jones and S&P 500 indexes had opened almost 1% up.
There was also data pointing to stagnant factory growth in China and the eurozone, prompting concerns about the strength of the global economic recovery.
Although the debt deal still needs approval from Congress, with a vote due on Monday, there had been widespread relief that the US will be able to raise its debt limit and avoid a default.
Stock markets across the globe became volatile recently when it looked as if an agreement between the Democrats and Republicans might not come through before the 2 August deadline.
The US dollar rose sharply against the Japanese yen, hitting 78 per dollar before retreating to 77.63, still some 0.3% higher.
Crude oil for September delivery was up a dollar at $96.69 a barrel on the New York Mercantile Exchange.
Gold prices fell sharply to $1,619 an ounce, down from a record high of $1,628 an ounce on Friday.
Gold and the Japanese yen have been gaining in recent weeks as investors bet that they were less risky than many other assets.
Future risks
However, analysts have warned that there are still risks for the US economy and investors will be closely monitoring jobs numbers due out on Friday.
"If the figures disappoint, we could see equity markets come under pressure again," said financial service provider Phillips Futures.
This view was underlined by Daiwa Capital Market's Mr Basu who added that slow jobs growth "would continue to show that the labour market is a deterrent to US recovery".
Fears about the strength of the US economy were fanned last week when growth numbers came in much lower than anticipated.
US President Barack Obama looked to allay concerns that the spending cuts of $1tn over 10 years he announced would impact the economy.
He said that those cuts would not happen too quickly and would not drag down the fragile US economy.