Honda profits plunge 88% as earthquake hurts production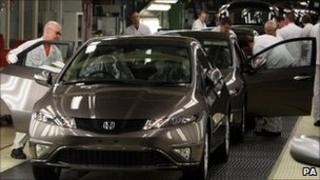 Honda motors has reported an 88% plunge in first-quarter profits after the 11 March earthquake and tsunami.
Honda said it made a net profit of 31.7bn yen ($408m; £248m) compared with 274bn yen a year earlier.
Production at the Japanese carmaker slowed due to a shortage of parts after the twin disasters disrupted the country's supply chain.
However, in a sign that conditions are improving, Honda raised its full-year earnings forecast by 35%.
Given the constraints the company had to work through during the period, the numbers are better than expected, analysts said.
"I think Honda deserves some credit for the first quarter, in which some expected the firm to post losses," said Naoki Fujiwara, a fund manager at Shinkin Asset Management.
Currency woes
While there has been a significant improvement in the supply chain, Japanese carmakers are facing tough challenges, not least from a rising currency.
The yen, a traditional investment haven, has risen by more than 10% against the US dollar in the past 12 months due to a slowing economic recovery in the US and debt concerns in some European economies.
A strong yen not only makes their cars more expensive to foreign buyers, but also hurts profits when carmakers repatriate their foreign earnings back home.
This is a particular concern for Honda as the US is its biggest market.
More than 40% of Honda's car sales during the April-to-June period were in the US.
'Competitive market'
While sales in the US have been a key engine of growth for Honda in the past, the company warned that the current economic situation in the country could mean tough times for carmakers in the world's biggest economy.
"I think carmakers will start offering bigger incentives once supply is available and consumers seem to know this and are waiting for them," said Fumihiko Ike Honda's chief financial officer.
"It will be a very competitive market then."
Analysts said that as demand from its key markets slows down, Honda needs to shift its focus to emerging markets.
Honda's concentration and reliance on developed markets meant that, unlike other carmakers, it had not been able to full exploit the fast-growing markets in the emerging economies, they said.
"Heavy reliance on the US market is both Honda's strong and weak points," said Mr Fujiwara.
"The automaker has not yet been able to develop market share in emerging countries."