Toyota profits plunge after earthquake disruption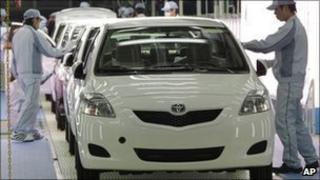 Toyota Motor has reported a 99% drop in quarterly profits because of the impact of March's earthquake and tsunami.
Net profit for the three months to the end of June fell to 1.1bn yen ($14.2m; £8.7m) from 190.4bn yen last year.
Toyota was hit by a shortage of parts around the world due to the damage caused to Japan's supply chain by the natural disasters.
Despite falling first quarter sales, Toyota increased its forecast for full-year sales and profits.
It said it was recovering from the tsunami faster than expected, and raised its full-year forecast for net profit from 280bn yen to 390bn yen.
Toyota also raised its forecast for full-year sales from 7.2 million to 7.6 million vehicles.
It is hiring as many as 4,000 temporary workers in Japan to help it make up for lost production.
Cost cutting
In addition to the disruption caused by March's tsunami, Toyota has also been hit by the strength of the yen.
The company's forecasts for the year to the end of March were based on an exchange rate of 82 yen to the US dollar, but it is currently about 77.3 yen to the dollar.
That is a particular problem for Toyota, which exports more than half of the vehicles it produces in Japan.
"Toyota remains committed to pursuing an improvement of its earnings structure globally through cost reduction activities in which it has strong track record, and to utilising every opportunity to increase production and sales outlook," said Toyota Motor senior managing officer Takahiko Ijichi.