BMW doubles profit in the second quarter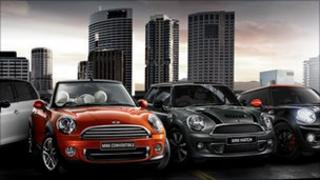 German carmaker BMW has said that its second-quarter profit more than doubled after it sold a record number of cars.
Net profit rose to 1.8bn euros ($2.6bn; £1.6bn), from 834m euros in the same period last year, with revenue up 17% to 17.9bn euros.
BMW - which also owns Mini and Rolls-Royce - sold a record 450,608 vehicles, a year-on-year gain of 18.5%.
The results were boosted by growth in the lucrative Chinese market, where its sales rose 52% from last year.
BMW sold 63,300 cars in China during the quarter, compared with 80,300 in its home market, Germany.
New Minis
"We expect the business environment to remain favourable during the second half of 2011," the company said.
For the first six months of the year, sales jumped 20% to 833,366.
BMW recently said its new Mini coupe would be launched later this year and the Mini Roadster in 2012.
Both are to be produced in Oxford, where more than 2 million Minis have been built since 2001 - about 75% of them for export.
In June, BMW issued a new full-year sales target of more than 1.6 million for 2011.