Japan's Kirin takes majority stake in Brazilian brewer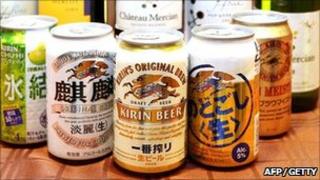 Japanese beermaker Kirin has bought a majority stake in a family-run Brazilian brewer.
Kirin took the stake in the company that owns Schincariol for 198.8bn yen ($2.56bn; £1.6bn) as it looks for growth overseas.
Schincariol is Brazil's second-largest beer producer and also makes soft drinks such as Nova Schin and Devassa Bem Loura.
Schincariol reported sales of about $1.8bn in 2010.
The deal comes as Japan's beer market shrinks, forcing the nation's brewers to look abroad - with a strong yen helping fund acquisitions.
Kirin bought a stake in Aleadri-Schinni Participacoes e Representacoes, which holds a 50.45%-stake in Schincariol.
Kirin also owns Australia's Lion Nathan and has a 48% stake in San Miguel Brewery of the Philippines.
Brazil's beer market is dominated by AmBev, the conglomerate formed when Belgium's Interbrew merged with Anheuser-Busch to become the world's biggest brewer.