OECD positive about Greek plans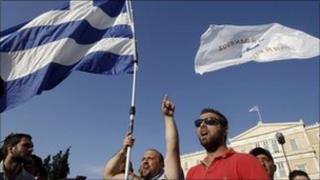 A report by the Paris organisation of mainly rich nations, the OECD, has painted a surprisingly positive picture of the prospects for Greece.
The OECD says the country's master-plan to tackle its economic crisis can succeed in rebuilding growth, jobs and living standards, as long as the reforms are fully implemented.
Lately, the near-insolvent EU nation of Greece has all but sunk under the weight of gloomy reports about its economic future.
As the finer details of the latest EU rescue package have emerged over the past week or so, the financial markets have not altered their view that the country's debt burden is unsustainable, and another large debt restructuring further down the line is inevitable.
Not appreciated
That may be so, but there have also been words of encouragement from the OECD in Paris.
Speaking in Athens, its secretary-general, Angel Gurria, said the difficult decisions already taken had not been properly appreciated either in Greece or abroad.
He felt the first signs of the necessary economic adjustment were already being seen, but that ultimate success would depend crucially on thorough implementation of strong reforms.
Many worry, in particular, that the country may not be able to deliver on its promised privatisation programme.
Tough line
The report stresses the need to keep cutting the deficit and to reverse the inexorable rise in public debt.
The OECD believes strengthening tax collection is urgent, both making it more transparent and fairer, with a tough line against evasion and vested interests.
The report says labour and market reforms could reduce public debt to below 60% of GDP over the next two decades, from 140% in 2010.
And the OECD says better monitoring of the progress of reforms is essential to help the process of convincing not only the markets, but also the public that the pain being experienced now is bearing fruit and helping to build a new economic future.