Fall in US consumer spending fuels economic worries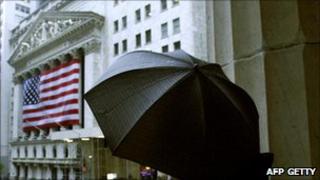 US consumers cut their spending in June for the first time in almost two years, according to new data.
They also saw their incomes grow at the smallest pace for nine months, fuelling further concerns about economic growth.
The US Department of Commerce said spending fell 0.2% in June, while incomes rose 0.1%.
Paul Dales, of Capital Economics, said it was a further sign that any economic rebound "will be more modest than previously looked likely".
Figures released last week showed that the US economy grew at a modest annual rate of 1.3% in the second quarter of the year.
Higher energy prices and unemployment have squeezed household budgets.
The economy added just 18,000 net jobs in June, the smallest rise in nine months. Meanwhile, unemployment in June rose to 9.2%, the highest rate so far this year.
US stocks fell following the news despite the White House and Congress finally reaching a deal to increase the nation's debt ceiling.
Gold reached another high of $1,640.39 an ounce as investors looked for a safe haven.
"If the recovery is ever going to gain speed, it will have to come from households deciding they want to spend money again," said Joel Naroff, chief economist at Naroff Economic Advisors.
Many economists have begun scaling back third-quarter growth estimates to around 2.5% from 3%.