Japan's parliament approves Tepco compensation plan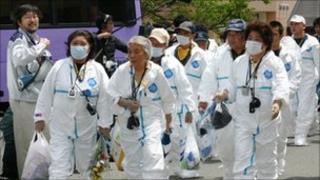 Japan's parliament has approved a plan to help the Tokyo Electric Power Company (Tepco) compensate victims of its tsunami-crippled nuclear plant.
According to the plan, a new fund will be set up to pay damages to victims affected by the crisis at the Fukushima Daiichi power station since March.
Japan's other nuclear power operators will make annual contributions.
Tepco, which reported a loss of $15bn (£9.2bn) earlier this year, may have to pay more than $100bn in compensation.
The bill was passed by Japan's parliament with support from both the government and the opposition.
The aim is to ensure victims of the Fukushima nuclear disaster get compensation, while keeping the lights on in Tokyo, says the BBC's Roland Buerk in the capital.
Tepco faces unlimited liabilities - and the weight of claims have threatened to drive it into bankruptcy.
At the Fukushima plant itself, workers are still trying to bring the reactors under control by January at the latest.
Earlier this week, Tepco said hotspots had been discovered on an exhaust pipe from the buildings, showing the highest levels of radiation recorded since the crisis began.
Funding source?
About 80,000 people living with 20km (12 miles) of the Fukushima plant have been forced to abandon their homes. Farmers and others business owners further afield have been ruined.
As a result, claims are expected to run into billions of dollars.
Under the plan, the government is expected to put in an initial 2 trillion yen ($26bn; £15bn) into the fund, although the final cost could be far higher.
In return, Tepco will restructure, and along with other nuclear power companies in Japan make annual contributions.
"The fact they are going to start to pay out compensation is good news as money will be pumped into the Japanese economy," said Naomi Fink of securities and investment banking firm Jefferies.
Penn Bowers of the investment group CLSA in Tokyo added that even though it was not clear how much the nuclear operators would have to contribute, they were likely to increase the cost of electricity to raise the money.
"They will simply pass it on the consumer. It is not going to be a cost that will not be directly borne by the business, but burdened on to the consumers," he said.
Analysts warned that a rise in electricity charges would increase household expenses and have a negative effect on consumer demand.
Government contribution
Analysts also added that it was likely that the government might take on direct responsibility for some part of the compensation.
They warned that such a scenario would leave the authorities in a tricky situation about how it would fund the payouts.
"You don't really want the compensation plan to give rise to new debt issues, it is already spiralling out of control," said Jefferis' Ms Fink.
Analysts said the government was already spending huge amounts of money to rebuild areas devastated by the earthquake and tsunami.
They warned that the added burden of compensation claims would leave the authorities with few choices.
"There will be a mix, consumption and corporate taxes will go up and they will also have to borrow some money," said Mr Bowers.
He added that while a rise in taxes might not come as a shock, it could still "dent consumption".