Standard Chartered beats forecasts with 17% profit rise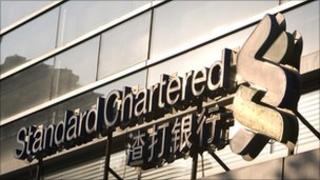 London-based, Asia-focused Standard Chartered Bank has reported an increase in half-year profits.
Pre-tax profits for the first six months of the year were $3.6bn (£2.2bn), up 17% from last year.
Operating profits by region rose in all territories except Standard Chartered's biggest market, India, which fell 39%, and Africa, down 6%.
It blamed rising interest rates, growing competition and regulatory changes for falling profits in India.
Profits grew by 55% in Hong Kong, 11% in Singapore, 30% in South Korea, and 98% in the Americas, UK and Europe.
Income from its businesses in the Middle East and South Africa rose 6%, the rest of Africa rose 5%, and in the Americas and Europe it was up 12%.
"The group's strong performance in the first half of 2011 should be seen in the context of the ongoing economic uncertainties, particularly in the West, and the sustained global regulatory upheaval," said Standard Chartered chairman Sir John Peace.
"Standard Chartered has had a strong start to 2011 and this momentum has continued into the second half."