Pay freeze 'for 75% of workers', says CIPD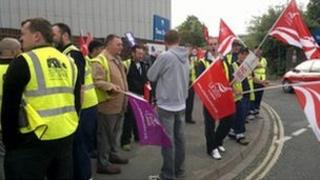 Only a quarter of workers in the UK have had a pay rise so far this year, the Chartered Institute for Personnel and Development (CIPD) has said.
As most pay awards were made between January and May, the CIPD said this meant most staff would not receive a pay rise this year.
The findings partly reflect the government's current pay freeze for most public sector staff.
Four out of five public servants said they had not received a pay increase.
Charles Cotton of the CIPD said: "Even those who are lucky enough to get an increase in their pay will find it below the current cost of living, compounding consumer belt-tightening."
"We will see some increase in the number of private sector workers receiving a pay award in the second half of 2011, especially in the retail, catering and hotel sectors, as the increase to the national minimum wage comes into effect in October," he added.
Pay cuts
Chancellor George Osborne announced a two-year public sector pay freeze in his 2010 Budget, except for those paid less than £21,000 a year.
It affected some civil service departments first, in 2010, and has affected the others, plus the rest of the public sector, this year.
A small number of local authorities have gone further and have tried to impose pay cuts on their staff.
In July, Shropshire council sent letters to all its 6,500 employees, stating they would all be sacked on 30 September but immediately rehired, although with a 5.4% pay cut.
Some of Southampton City Council's 6,800 staff have been involved in a series of strikes in the past few months.
They have been objecting to plans, enforced at the start of July, to save money by, among other things, a reduction in their working hours and pay.
In June, Kettering General Hospital NHS Foundation Trust said it would ask all staff to accept a pay cut worth half a day's pay per month.