Betfair CTO says adapting to foreign markets is vital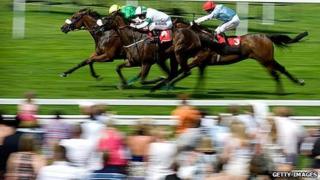 Each week we ask high-profile technology decision-makers three questions.
Mobile is changing the way the betting industry works, says Betfair's Tony McAllister
This week it is Tony McAllister, chief technology officer (CTO) of Betfair.
Betfair is one of the world's largest online sports betting providers and is the world's biggest Betting Exchange.
Founded in 2000, the company introduced peer-to-peer betting, a concept which enables customers to bet against one another and match their own odds. Betfair has more than three million registered customers, using a website available in 17 different languages.
The business, which listed on the London Stock Exchange in October 2010, employs more than 2,000 people across the world and generates more than 50% of its revenues from global markets.
What's your biggest technology problem right now?
Right now our biggest problem is making our platform and our products and services adaptable to an international market.
The original Betfair exchange was built for UK customers and events. We ultimately found out after a short period of time that the whole world wanted to play with it.
So over the 10 years that Betfair has been in existence, a lot of work has been done to allow other markets to interface with it, and for our customers in other jurisdictions to be able to use our system.
That's created a bit of a monolith, if you will, from a technology standpoint.
And with regulation changing around the globe the way that it is, particularly in Europe, we have different things that we can do or can't do inside each country.
One of the biggest challenges I have is how to make my platform adaptable and agile enough to deal with regulations that may be different in Italy than they are in Spain, and again different in Greece as they are in the UK.
In some cases I may need to put kit in a country, or I may not be able to put kit in a country, I may build and run some products and not run other products
That's the biggest challenge I face today, rebuilding my entire infrastructure, physical as well as software, to deal with the changing regulatory landscape.
What's the next big tech thing in your industry?
In our industry the next big thing, we're kind of in the middle of it right now, is mobile.
I have a bit of mobile background having worked for Vodafone and some other mobile companies in the past.
We've all talked about data on the mobile with a hockey stick - just the next year in front of us in the growth plan.
Well the truth is I think that hockey stick hit in about 2010.
Between then and 2011, that's the first time that mobile devices, particularly smartphones, began to out-sell laptops and PCs. So people are beginning to use those more as computers in your pocket.
Betting is a social experience which makes the exchange such a compelling offer. But it can also be relatively personal and/or event-driven.
You could be at Ascot and be betting on your mobile while you're watching the race happen, or you could be watching the event on TV at the pub or you could be on holiday.
The thing about mobile is it's right with you everywhere you are, and I think there's some unique capabilities with GPS and notifications in mobile that allows us to tell you what's happening.
We know where you are so we can identify how close you are to an event and let you know what's going on.
I believe mobile is far and away the next big growth factor in our industry. It's true of a lot of the online industries - but I think it's definitely true in ours.
What's the biggest technology mistake you've ever made - either at work or in your own life?
A few years back, I was working on a big project inside of a company and had to choose a vendor to outsource the work to.
I didn't do a good enough job of monitoring that vendor's capability, and the work that they were doing to understand that they were in trouble.
My project did not get delivered on time or on budget.
That was a pretty big learning curve for me to know that I've got to monitor those vendors much much more closely as I go through it.
Then I think - probably my biggest one - and my personal challenge - my wife has always been a bit of a luddite.
When we first moved back to London I had to buy her a mobile phone, so I bought her an iPhone.
She got very enamoured with it, then next thing she needed was an iPod to start listening to her music. And then I bought her an iPad so she could have a laptop to travel around with. And now she's ended up with a Macbook.
Having always been a PC guy myself I'm a little disturbed by the fact that I think she's probably got a picture of Steve Jobs hanging in her closet, and she has become much more technically advanced than I am.
So I kind of think that my biggest mistake was buying her that iPhone in the first place.