Lloyds: Privatising at a profit looks far away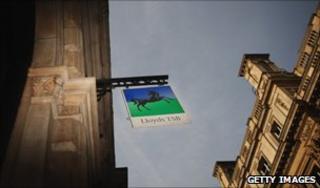 When I spoke to Lloyds' newish chief executive Antonio Horta-Osorio this morning, he described his group's results as "resilient".
Which you may think is slightly odd, given that Lloyds has announced a whopping £3.3bn pre tax loss for the first half of the year, compared with a profit last time of £1.3bn.
But he would say that the return to the red is largely due to weird accounting eccentricities (such as changes in the market value of Lloyds' own debts) and one-off charges, notably the remarkable and humiliating £3.2bn charge to cover the cost of compensating those missold PPI credit protection.
On an underlying basis, Mr Horta-Osorio would say, the picture is one of modest progress at the largest retail bank in the UK. There was a 36% rise to £1.34bn in what City cynics call profit before the bad stuff.
There are however other examples of this "resilient" performance.
Lloyds for example reduced its dependence on emergency funding from central banks and governments - notably the Bank of England and HM Treasury - by a little under £60bn over the past six months. Its residual life-support funding provided by taxpayers is "just" £37bn.
The group took advantage of a brief revival in the market for bank debt, to raise £25bn in the early months of this year - which helped, along with the repayment by customers of their debts, to provide the wherewithal to Lloyds to accelerate the repayment of rescue loans it had received from the Bank of England.
The reason that early repayment to the Bank of England looks smart is that the market for bank debt has largely disappeared again, because of investors' fears about the crisis in the eurozone.
Or to put it another way, if the eurozone goes from crisis to meltdown this autumn, Lloyds should be better placed than many banks to withstand the shocks, because it has relatively small refinancing requirements for the second half of this year.
That said, there is a price for shareholders in Lloyds standing on its own two feet again. What it was paying the Bank of England and HM Treasury to borrow was in aggregate less than what it has to pay commercial lenders: there was a taxpayer subsidy implicit in the bailout. So there has been a squeeze in Lloyds' interest margin and thus its income.
'In everyone's interest'
Another sign of resilience is confirmation that Lloyds' lending exposure to all-but-one eurozone economy is tiny.
Lloyds' aggregate direct exposure to the national and local governments of Spain, Italy, Portugal, Ireland, Greece and Belgium totalled £189 million - which for a bank of its size is as close to zero as anyone could wish.
The exception that doesn't really prove the rule is Ireland, because Lloyds' loans to the Irish economy are very substantial.
But even the horrid Irish performance is improving a little. Lloyds took a £1.8bn charge for Irish loans going bad in the first half of the year, which compares with £1.6bn in the equivalent period of 2010 but is sharply down on the £2.7bn Irish charge taken in the second half of last year.
As the largest retail bank in the UK, Lloyds is preparing for years of hard grind. It says it expects that "a period of subdued economic recovery in the UK will be accompanied by a period of modest growth in our market, and that this will be sustained for several years".
It anticipates an extended period of businesses and households paying off debts, or deleveraging, combined with only modest growth in deposits "as a result of the pressure on consumers' disposable incomes from ongoing high inflation and cuts in welfare benefits".
Oh, and it is braced for further increases in its costs - which will have an impact on its ability to lend - from the higher capital and liquidity requirements being imposed on all banks, and from the as-yet unspecified plans of the Independent Commission on Banking to force the UK's bigger banks to ring fence their retail operations (which are likely to have a much lesser impact on Lloyds than on Barclays and Royal Bank of Scotland).
Against that challenging backdrop, it is striking that Mr Horta-Osorio says Lloyds has boosted net commercial lending - that's after repayments - by 2%. And Lloyds says lending both to businesses in general and to important small businesses are on course to beat the targets for 2011 agreed with the Treasury in the so-called Merlin agreement.
The priority for the bank is cost cutting and smartening up the services and products it offers to the countless millions of its customers.
So, as it disclosed a few weeks ago, Halifax will be relaunched in September. Lloyds will attempt to sell a wider range of products, especially insurance, to its clientele. And another 15,000 jobs will be shed in the coming few years.
As you probably know, the success or failure of Lloyds' attempt to generate high profits and returns on its capital are of material importance to most of us, in that taxpayers own 41% of the bank.
For many it does now look extraordinary that in what was the worst banking crisis in the UK since just before World War I, the Treasury paid 74p a share for the Lloyds stake, or £20bn, and yet today, when the British economy is allegedly recovering, those shares are 47% lower at 39p.
Or to put it another way, it may be many years before taxpayers' £20bn investment in Lloyds can be privatised - unless the Chancellor is prepared to take a loss on the sale.